DomainNameDepartment.com

Tatra? Around the World!
By Bob Lawrence
(Editor's update: U.S. giant truck maker Terex now owns 40% of Tatra.)
San Diego - 1987. I could hardly believe my eyes. A huge, Czechoslovakian-made truck parked just across San Diego Bay from a US aircraft carrier. The Berlin Wall had not yet fallen and the Communist Czechs were on the short list of nations sworn to bury us. But, there it was, a massive Tatra motor home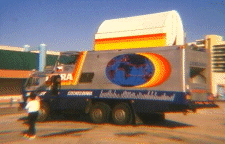 decorated like a circus wagon, world map and all. My God, a real Tatra!
I was working as a TV reporter for a San Diego network affiliate. I had just finished an interview in the bayside cruise ship terminal when the Tatra came into view. My photographer couldn't understand my excitement. I explained that Tatra was one of the world's pioneer car companies, that they weren't available in the US and that the crew of this Commie land yacht was within binoculars view of a billion dollars (probably more) worth of Yankee hardware designed to send planes to bomb the factory where this truck was made. Who were these guys?
I marched up to the truck, knocked on the door and waited. I scanned the stickers from British Kodak, Bata Shoes, Budweiser Beer (the original Czech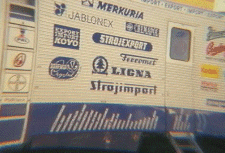 brewery) and other European sponsors. A man came to the door. I told him who I was. English wasn't going to be much good here. I thought, "this is a story, this is a car lover's story, this is a patriot's story. How could I get anyone in the newsroom to realize, this is a good story? A Communist Tatra just a bazooka shot from the USS Kittyhawk."
Well, the man in the truck spoke enough English to say that one of the other Tatra crewmembers spoke good English and he'd be back in an hour. I left my card, said I'd be back and raced to the station to prepare my assigned story for the six o'clock news. Then I came back to get to the bottom of the Tatra mystery. Now, there was a small crowd around the rare vehicle.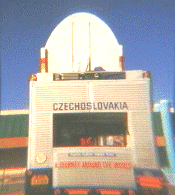 Outer panels were open for public view. An airplane propeller showed in one rear compartment. A tall, thin man was explaining in English, with an eastern European accent, that they were carrying two motorized hang gliders. OK. What we had here was an "enemy" truck manned by five Czechoslovakians, equipped with two airplanes, sitting across the bay from a huge, super secret US war machine, and no effort to conceal any of it.
His name was Stanslaus Synek and he was ready to talk. It seems the Tatra Truck Company had set out to replicate a round-the-world trek performed by

two Czech heroes back in 1936. They drove a Tatra car around the globe to prove how good Tatras were. They became legends, a status these guys expected to achieve when they finally rolled into Prague after two years on the road. And at the same time, they were showing the world that Tatra trucks were just as tough as that 1936 Tatra car.
Now, by US standards, Tatras cars have always been strange. The company started life as a coachbuilder in the Austro-Hungarian Empire in 1850. Their first motor vehicle, the Präsident came out in 1898. It had a two-cylinder Benz, air-cooled rear engine. Through the years the car engines grew to eight cylinders, but they were still air-cooled and still in the back. Legend has it that Ferdinand Porche's design of the Volkswagen beetle, was a rip-off from the Tatra designs of the era. VW came out in 1936. The first Tatra Around The World event was in 1936. Hmmm.

Stanslaus invited me to tour the inside of this rolling bungalow to see its features, including a quantity of stowed photographic gear. Five guys had been living in there.
It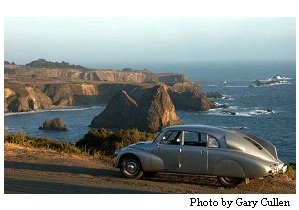 looked it. Stan was obviously proud of the mission. He was a curious man. He told me he was a nuclear engineer, familiar with the west, having worked for two years at an atomic power plant in Canada. He said he was recruited for this trip as the mission's interpreter. They had entered the US from Montreal, driven all across the country and, after three more weeks touring the southwest, would cross the border into Mexico. They had to get to Nicaragua.
The trip, so far, had taken its toll on their giant tires. There were big chunks missing from tread, probably now on roadsides in Iowa or Idaho or both. They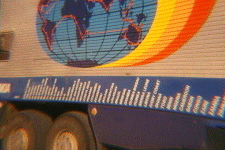 couldn't just pop into Sears and slap on a set of Allstates. They were nearly out of money. So, why Nicaragua? Well, the Sandanistas had taken over in 1979. Nicaragua was a Communist country. Waiting for them there was money, new tires and a ship.
My wife, teenage son and I took Stan, and his girl friend, out to dinner. Stan's girl friend, Hanna was a Czech living in Moscow who had flow to the US for a three-week visit. Hanna spoke no English. Stan tried to translate my jokes for her. I don't think she got them. I don't think Stan did either. Still, they both laughed on cue.
Stan told me the main topic of humor in Prague was how bad the Czech bureaucracy was. He spent most of the evening criticizing his government. I asked Stan about the other crewmembers. There was a driver, a pilot for the two onboard planes, and a mission leader. In addition to Stan, there was also a cinematographer who was shooting a 16mm documentary about the trip. Stan said he had not gotten to know the others very well. He couldn't understand why he was the only one who wanted to sightsee. His colleagues just wanted to barrel down the road, occasionally stopping to shoot film or fly one of the planes. This was an amazing experience for me and my family. It was Stan and Hanna's last night in San Diego.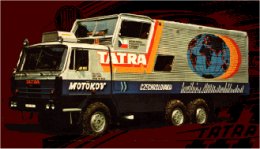 Next morning my wife and I went back to the Port District parking lot where the Tatra occupied three spaces. They were ready to go. We hugged our new friends and they drive off in a cloud of dark blue smoke. Their ten-cylinder, air-cooled Diesel road monster was not exactly environmentally friendly.
Oh, I did do a news story on them. It was one of those anchor reads copy while you look at the video, voice-over stories, worth 30 seconds to the news producers. Priceless to me. My editors never did get it.

I didn't think I would ever again hear about the Tatra, Stan and his stoic truckmates. Was I wrong. Three weeks later, sitting in a TV station conference room watching the network news, up comes a story about Stan and the Tatra. It was an "investigative" report by Brian Ross. The veteran journalist had spent months in a van with the FBI, following the Czechs. The inside of the G-man van was probably as rank as the inside of the Tatra by this time. The Tatra had been detained at Calexico, on the Mexican border. The FBI said the Czecks were spies and Ross seemed to agree.
The report went on to say that "hidden" on the truck were movie and still cameras, and two disassembled airplanes, used to fly surveillance missions near American military bases. Now, Stan showed me all of the camera gear back in San Diego and his colleagues were taking great pride in showing their fabric planes to some retired US Navy sailors when I first stumbled across the truck. Perhaps if Ross had just gotten out of that FBI van once in awhile, his slant would have been different. The story ended explaining that, after being delayed at the checkpoint, all of the equipment and film were returned and the truck and its crew were permitted to leave, crossing into Mexico, bound for Nicaragua. But first, they had to get past Guatemala.
Now, I don't know if these guys were spies or not. My actress daughter was at a party in Los Angeles years later when she met a Czechoslovakian man and told him about my experience with the Tatra and crew. He laughed and said everybody in his country knew they were spies. Could be, but at a party in LA it is best not to believe everything you hear.
Months after the damning news story, another surprise. This time, a letter from Stan. They were finally in Nicaragua; tires were being put on the truck and the story got stranger. Their experience in Guatemala was a replay of the Calexico episode to the extreme. Stan said he and the crew had been thrown into prison, accused of being Communist spies. Of course, if that were true, they were spies with "Hey, look at me. I'm from Czechoslovakia" written in big letters across their rolling billboard. Quite a ploy. Nobody would ever expect that.
After three weeks in a Central American slammer, freedom again. Equipment returned, they limped on their balding tires into Managua, fortified themselves for the remainder of the trip and boarded a freighter.
Exactly where they went next, I'm not certain. The map on the side of truck indicated all around South America. But, when the Around the World tour got to China, Stan's stone-faced cohorts apparently loosened up a bit. A couple of them decided to take a rafting trip down a scenic river. That's what Stan told us in his next and final letter. He said something went wrong, the raft capsized, and one of the Tatra adventurers was killed. The trip stalled there while the crew flew their fallen comrade back to Prague for a proper burial. They then returned to China and fired up the Tatra for the rest of the journey.
I don't know whatever happened to Stan, the other surviving Tatra-ites. the monster truck is in a museum. But, I don't think they became legends. You see, by my reckoning, the people who sent them on their Odyssey, be it a promotional adventure or a spy mission, were in no position to welcome heroes. I'm pretty sure, by the time they got home, communism had fallen and the Czechoslovakia they left no longer existed. But, Tatra trucks are still being made.
TravelReporter Infofile: To learn more about Tatras go to http://www.clearlight.com/~brawicz/tatra_trucks/tatra_truck_history5.html

What do you think?
Click here to comment.
Browse Travel Books...

GoTo TravelReporter Homepage
TravelReporter is an online service of Making History.
To report dead links or other problems anywhere on this web site
please email to webmaster.
Copyright 2005 MAKING HISTORY